"Europe is a great destination for stargazers, thanks to its low light pollution and clear night skies in some areas.
In this article, we will see Where can you see the Milky Way in Europe? If you're looking for a chance to see the stunning Milky Way, here are some of the best places to go:
Read Also: Where can I see Milky Way in India?
Where can you see the Milky Way in Europe?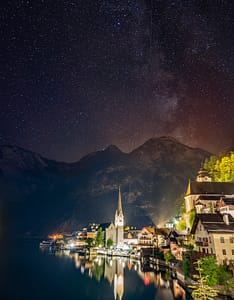 Milky Way over Hallstatt, Austria
The Milky Way, our home galaxy, is a breathtaking sight that can be seen in the night sky. While light pollution in cities makes it difficult to spot, there are still many places in Europe where stargazers can enjoy the beauty of the Milky Way. Here are some of the best spots to see the galaxy in Europe:
Pic du Midi Observatory in the French Pyrenees – This observatory offers the chance to see the Milky Way from one of the highest peaks in the Pyrenees. The observatory is open to the public during the summer months and offers guided tours of the night sky.
La Palma, Canary Islands – This Spanish island offers some of the best stargazing opportunities in Europe. The island's location in the Atlantic Ocean, away from light pollution, makes it a prime spot for viewing the Milky Way.
The Brecon Beacons National Park in Wales – The park is home to the Brecon Beacons International Dark Sky Reserve, one of the few places in Europe where the Milky Way can be seen with the naked eye.
The Swiss Alps – The high altitude and clear air of the Swiss Alps make for excellent stargazing conditions. Many of the mountain towns and villages, such as Zermatt and St. Moritz, offer guided stargazing tours.
The Alqueva Dark Sky Reserve in Portugal – This reserve is the first of its kind in Europe and offers some of the best stargazing opportunities on the continent. The reserve is home to several observatories and stargazing tours.
Whether you're a seasoned stargazer or a first-time viewer, the Milky Way is a must-see sight. These European locations offer the perfect opportunity to experience the magic of the galaxy. So pack your telescope or binoculars and head out to one of these spots for a truly unforgettable experience."